Again I have to call attention to two diagrams: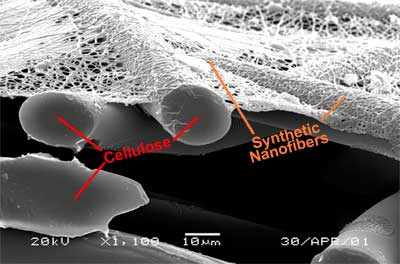 and Figure 3 on this pdf:
http://www.asia.donaldson.com/...talibrary/050272.pdf
2nd picture is twice the magnification of the first but the two looks fundamentally different. If you reduce the size of the Figure 3 from the PDF and transpose or do a side-to side comparison you will find it very difficult to get a good match.
There is also something inconsistent between the graph show on the PDF and Amsoil's numbers in filtration efficiency. Look at Figure 4 on the PDF and compare it to these numbers:
Amsoil is still nominal at 7 microns but here it shows that a nanofiber oil filter is nominal between 0.00 and 0.20 microns. How does that work?